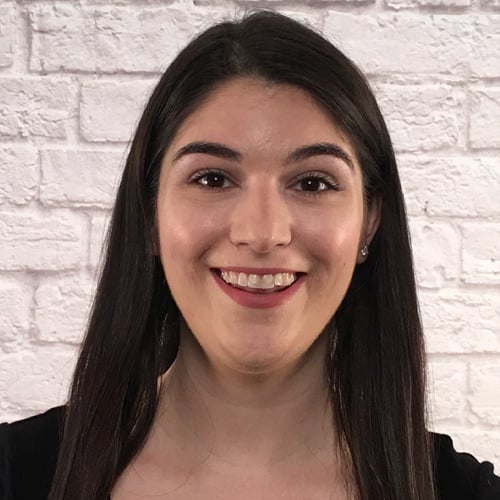 Trailblazing Innovations Uncovered at Dreamforce 2017
With over 2,700 breakout sessions, hands-on demos and "the world's brightest, most innovative minds" in one place, Salesforce's Dreamforce technology conference has plenty to offer leaders looking to grow their businesses. In fact, past attendees have increased their sales productivity by 38% their marketing campaign effectiveness 29%.
So for the first time in Enthusem's history, our team headed to San Francisco to exhibit our solution and discover the latest and greatest across a number of verticals.
Needless to say, there was a ton we took away from the conference – from emerging trends and themes to several exhibitors and solutions that stood out. The following is our reflection on the four-day event and are most important takeaways as it relates to personalization and marketing.
Learn how hyper-personalized direct mail converts offline prospects to online customers:
Download your copy of Human to Human Personalization At Scale
One Big Trend & One Stroke of Marketing Inspiration
Omnichannel marketing and customer experiences are not a new initiative, but like many initiatives, it can't succeed without complete buy-in. At Dreamforce, it sure seemed as business leaders have gotten serious about implementing an omnichannel approach – They're not just throwing around the term. Seemingly every company has started to consolidate and integrate its siloed sales and marketing data and delivery methods. A complete adoption of this uniform approach would lead to far more marketing and sales success.
Of course, personalization is as instrumental to that success. And Adidas has done a remarkable job using data to create an exceptional customer experience. Adidas.com's tracking enables them to provide its customers one-to-one personalization. While they collect a ton of siloed data sets, Adidas uses it to draw macro conclusions about each customer. They then use that information to draw its customers in and create an account that Adidas can further leverage to monitor customer activity and preferences. And with this next-level data, Adidas presents each customer a hyper-personalized experience on its site, over email and on digital and social channels.
The Trailblazing Exhibitors That Made the Greatest Impressions
Dreamforce offered more than the usual number of conferences exhibitors, and it meant that were plenty of experiences to learn from. Here are those that made the greatest impressions on our team:
Salesforce
Salesforce Einstein – a layer of artificial intelligence within the Salesforce CRM – had plenty of cool and unique features to help businesses collect mass information from prospects, and even employees. It was interesting to learn how businesses could use Einstein to improve employee retention and happiness. Einstein initially records an internal Net Promoter Score and analyzes the information to identify your opportunities to enhance your employee engagement and retention.
Prezi
One of the most innovative presentation solutions, Prezi demonstrated how you could incorporate augmented reality into your presentations. As a group who really understands the benefit of having a real person spearhead communication, we were drawn to how Prezi allows a presenter to become the "face of their presentation." With AR, presenters can guide their audience through their presentation like a conductor – in a way that feels very natural.
TalkDesk
For businesses that take or make lots of calls, TalkDesk has great value to offer. The cloud-based contact center solution transcribes your calls so you can analyze your conversations. But even more, it leverages AI to suggest next steps with your prospect or customer. It was extremely exciting to see how far along TalkDesk and their partners have come in this area. And with its ability to pull crucial information from calls, update Salesforce fields and tag key terms mentioned on a call, TalkDesk could really help you hyper-segment your audiences and workflows.
Geopointe + MapAnything + TerrAlign
This collection of geo-productivity and geo-mapping platforms provide businesses incredibly detailed and interesting information to businesses that employ a fleet of service trucks or sales reps, for instance. One eye-opening example we learned was how some companies used this kind of GPS technology to generate accurate billable service hours at their customers' locations.
Bouquet.ai
Bouquet's conversational AI software, Aristotle, integrates with Salesforce and pulls your CRM data to provide key insights to your sales team. You can naturally ask Aristotle any question about your Salesforce information over a text conversation, and the platform provided the information requested. With natural conversation as a means of pulling data, managers may not need dashboards for much longer. We witnessed a very detailed sequence of questioning:
"How much of Product A did we sell in Q3 of 2016?"

"How many of those sales had a discount?"

"Who was our top sales rep that quarter, for that product?"

"How much did that rep make?"
Our 3 Favorite Booths
Conferences and events such as Dreamforce are a great opportunity to provide a powerful customer experience. Here are a few of our favorite examples:
Prezi
With a monster-themed both, Prezi's entire setup looked like a blue, fuzzy Sully from Monsters Inc. But best of all, they used their augmented reality on a giant monitor so you could experience the power of the Prezi-AR duo firsthand.
Adidas
Adidas' booth was a designed running track, on which its reps walked visitors through their personalization customer journey. It also included several monitors to show their shoe customizer. They even offered exclusive Dreamforce sneakers.
Acumen Solutions
Acumen partners with cloud technology innovators to create businesses solutions for its clients. They also know how to host a good time – With foosball and Mario Kart, this was the place to hangout.
Final Tidbits Worth Noting
Unlike many other conferences, decision makers were in abundance on the event floor. While influencers attended breakout sessions, the most important stakeholders were checking out the different exhibitors at Dreamforce. It was a great opportunity for people to get some face time with the people who sign on the dotted line.
All in all, Dreamforce was a great experience, and we came away with a number great ideas we look forward to implementing and met a number of people who are really excited about implementing Enthusem into their direct mail strategies! There are several companies we're interested in learning more about, too. If you also attended Dreamforce, we'd love to hear your thoughts on learn what you took from your experience.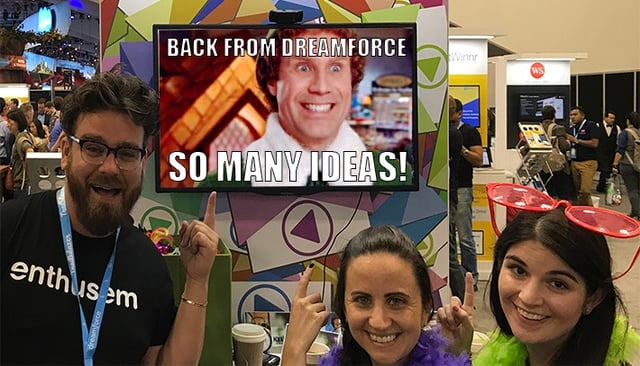 Personalized video is innovating how brands connect with prospects. Click the button below to learn how to nurture, close, and retain customers with personalized video.