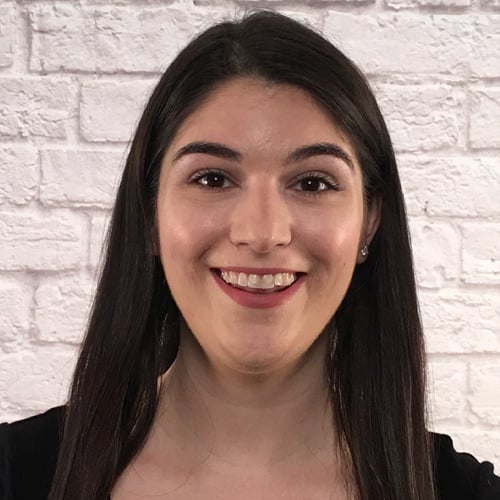 What Does the New Facebook Update Mean For Marketers?
Any marketer who's been managing their company's Facebook page over the past few years has likely noticed a large drop off in interactions with their posts. In fact, the average organic reach of branded Facebook page content has dropped precipitously, according to Social@Ogilvy, down to about 2% reach for pages with more than 500,000 Likes and 6% for all pages. So why aren't your valuable followers seeing the posts you're publishing?
First and foremost, there are more businesses and consumers on Facebook than ever before, creating a hyper-competitive environment for getting in front of prospects.
Learn how hyper-personalized direct mail converts offline prospects to online customers:
Download your copy of Human to Human Personalization At Scale
In 2012, Facebook chose to update its news feed algorithms, which included a limit on the organic reach of brand pages' content to roughly 16%. The social network then followed those restrictions with another reduction late in 2013. Similar to Google search updates, Facebook changes are unpredictable – the company may choose to update their algorithms at any time.
The chart below illustrates the steep decline in organic impressions.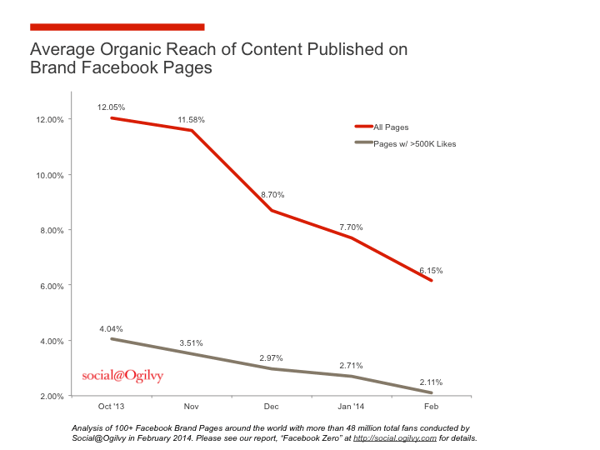 Facebook's decisions are part of a deliberate strategy to show its users the most relevant content to their unique interests. At the start of the new year, Facebook has again unrolled new updates, making it even more difficult for your organic posts to reach your audience. Though a belief held well before Facebook's latest announced, this trend is a significant reason why Social@Ogilvy believes "organic reach of the content brands publish in Facebook is destined to hit zero."
Now more than ever, you must assess your Facebook marketing strategies and brace yourself for the inevitability of using more of your budget to get your content in front of your target audience.
What Does this Algorithm Update Mean for Your Facebook Posts?
The latest update to Facebook's algorithm is intended to ensure that its users only see posts that are shared and engaged with amongst that users friends. Like updates of the past, this change further strangles organic posts from publishers and brands. Though not a direct move against brands, the 2018 update attempts to promote more meaningful and relevant interaction with the people that users care about most.
While marketers are concerned with the potentially-significant traffic decline, this change does not come as a surprise. Businesses have adjusted their strategies to algorithm updates in the past, election to spend more money on boosting their posts and running Facebook Ads.
The lingering and unanswered question is how deeply this update will cut into the exposure of brands' organic content. Does it also mean that the only way brands can engage Facebook users is through paid marketing?
One of the most important predictions captured by The Wall Street Journal is the likely hike in the cost of advertising on Facebook. The golden economic rule of supply and demand will be the cause. CEO Mark Zuckerberg believes that Facebook users will spend less time on the network because they won't have to scroll through as many organic brand posts in their News Feed. The effect is constrained real estate for Facebook advertisers – shorter supply.
Even if advertising demand held constant, the cost of placing ads would go. But many marketers may feel inclined to spend more to get in front of its prospects – raising demand and further increasing the costs of each impression or click.
What's a Marketer to Do?
Marketers always have options, especially in the vast digital world. So an obvious response to this update is to increase your Facebook ad budget. While the cost will rise and you may get less bang for your buck, the general effectiveness of paid ads has gone way up.
A more viable option may be to spread your marketing budget around a little more. Some marketers believe Facebook's algorithm update will actually give new life to Twitter marketing. Unlike Facebook, Twitter remains unencumbered by content filtering algorithms (for now, at least). With Twitter's recent expansion to a 280-character post limit, you have more room to communicate with your followers.
Beyond digital, however, is the still-valuable land of offline marketing. You can even use tactics such as direct mail to integrate with your digital presence – even your Facebook page. Enlisting a combination of online and offline marketing tactics will give you greater exposure, and if strategic, can help you build a more cohesive, engaging campaign to capture your target audiences.
As it becomes increasingly difficult to reach your prospects online, integrated direct mail solutions can be a lucrative tactic. In fact, in the age of digital marketing, direct mail has proven to have increasingly significant ROI. As mentioned, many marketers are using their offline marketing to encourage their prospects to engage with specific online content.
Should Offline Marketing Replace Some of Your Facebook Spend?
The bottom line with this Facebook's most recent update – and what it has in store for 2018 and beyond – is that organic impressions are verging on extinction. As Facebook furthers its efforts to improve its user's content experience, marketers need to determine whether or not a shift to more cost-effective options will not only help them better reach their audiences, but also provide more value.
Of course, there's no more engaging branded content than that which leverages personalized messaging. Video is one of the hottest tactics through which savvy marketers are providing personalized content.
Download a copy of The All-Encompassing Guide to Crushing Personalized Video to learn how to leverage the power of this lethal combination. Just click below.