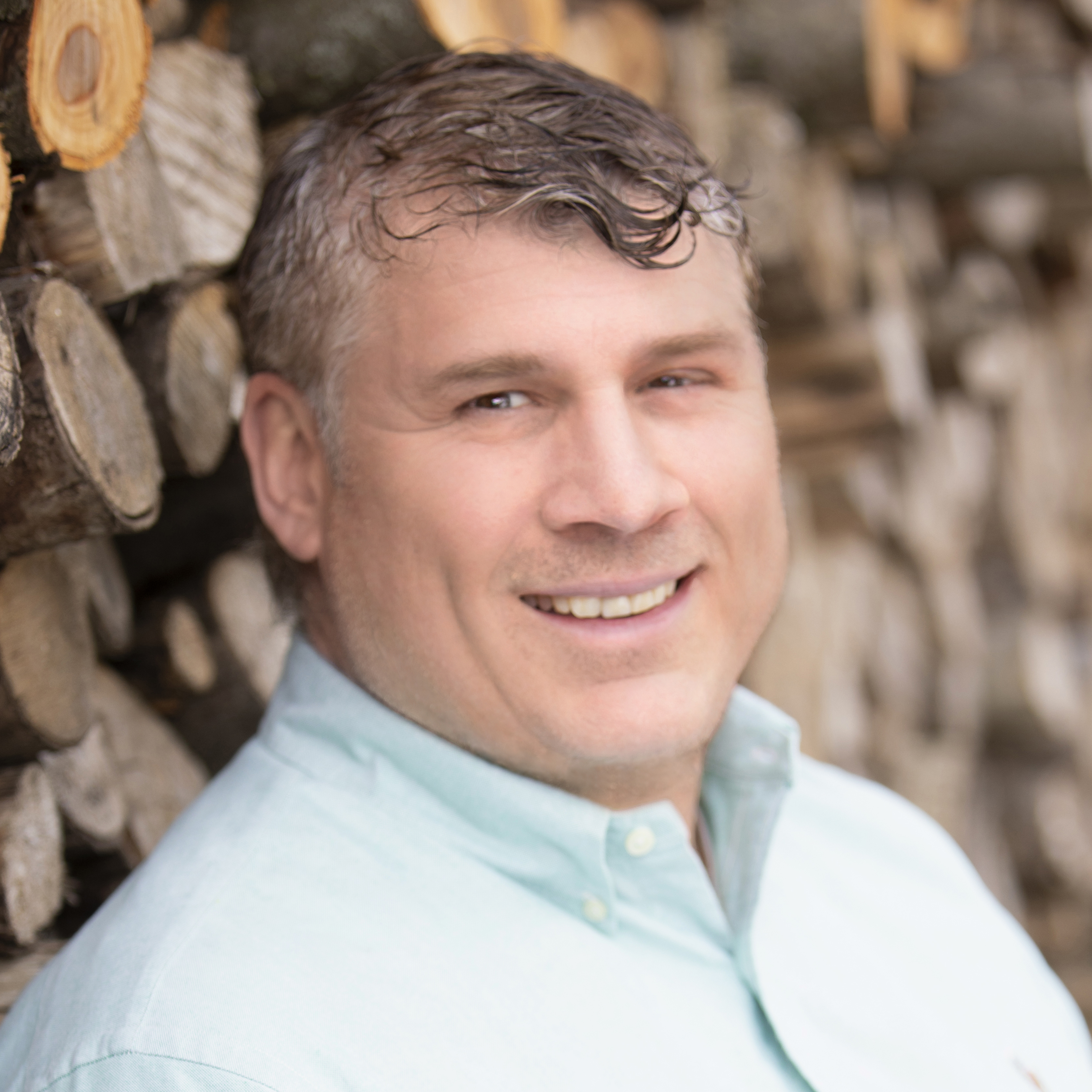 A Digital Twist on B2B Direct Mail Results
If you're honest about your new customer acquisition efforts, then you'll admit that most new tests fail when compared with your top performing lists and media. Nevertheless, you continue to take calculated risks having the empirical assurance that they will eventually pay off. But how do you decide which risks are most appropriate and recognize the greatest benefits?
For starters, it helps to think first about what you can rule out before refining your options -- so start with two extremes. For example, consider the following:
---
Learn how hyper-personalized direct mail converts offline prospects to online customers:
Download your copy of Human to Human Personalization At Scale
---
Test plan for a B2B product catalog and online retailer
An experienced media broker recommends 40 targeted list rental options that performed well for other direct mail campaigns within the client's vertical. The client weighs in and decides to test 10 of the top 40 branded audiences, and subsequently compares the results from the mailing prior to expansion. This typical approach for traditional direct response marketers can be refined and improved, but only to a point where return-on-investment is 'acceptable' at best. These options are all from the same playbook, and there are no extremes in the testing queue for getting outside the box.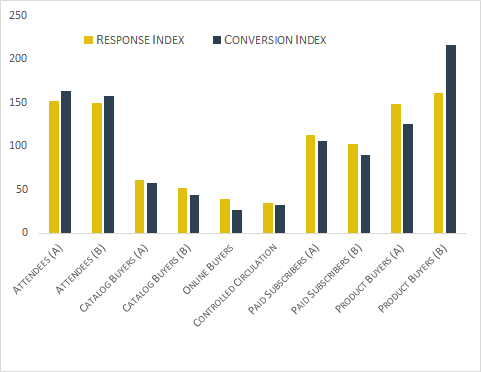 The problem: while seemingly conservative, this legacy approach to B2B new customer acquisition is limited to second-party data sources with no insight on the offline audience regarding online engagement with the advertiser's brand.
Potential new buyers exploring your site are perfect candidates for your direct mail offer, but you are only re-targeting them in a programmatic way. How do you pluck this low hanging fruit (data) and apply to personalized direct mail?
The solution: extract non-PII data from your web site and create an offline asset with actionable information for improving the performance of your direct mail campaigns. For B2B, this is simply a listing of company names and addresses associated with the IP addresses captured by your marketing automation platform.
This is easier said than done, given that IP address look-up tools return mostly ISP names and not the end-user organizations. However, a multi-step data matching process often yields enough information to produce a test file that can outperform even your best prospect lists. This includes a reverse append of IP addresses and other lookup processes to capture as many company names and locations as possible. The resulting company names and addresses can then be applied to a master B2B contact database for targeting specific titles and job functions. There are no direct one-to-one contact relationships, but regardless of the limitations of this process the following test results were fantastic!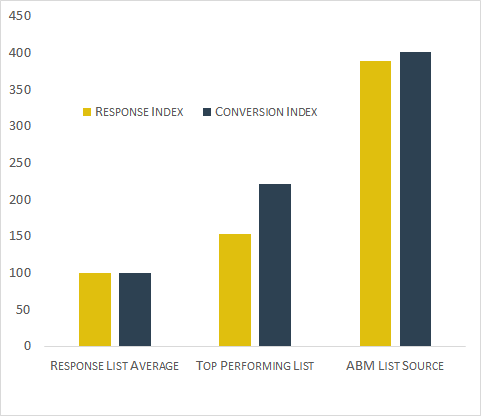 The results: the above graph represents a direct comparison of the response list portfolio with the account-based marketing approach using IP addresses as the building blocks for a targeted direct mail list selection. The matched company names and title selects were applied to a postal mailing that delivered response rates (3.9x) and conversion rates (6.0x) significantly above those of the traditional response list campaign. The initial hypothesis was based on there being enough overlap at the company level to capture an engaged audience for personalized delivery, improving response rates with this ABM approach-- and it worked.
So now there's a new problem to solve. How does this scale without a significant increase in web site traffic from which to harvest new IP addresses? Well, based on the ROAS and incremental revenue gains from the initial test -- it's a good problem to have.
Read more at Programamtic B2B
Curious what your cost per lead would be with direct mail? Check out our interactive calculator to find out!
About Chris DeMartine
Chris has over 20 years' experience working for multinational corporations including Canon USA and IBM, and helping lead a few privately held tech startups and marketing services organizations. He authored dozens of articles in leading trade publications related to data marketing, market trends, performance bench-marking and operational excellence. He graduated with the tenth EMBA (Executive MBA) cohort at Drexel University in Philadelphia, PA and is the founder of Universe Trends, a business intelligence resource for the direct marketing community. Chris has led sessions and presented at AAMP, ANA, NPF, USPS PCC, VTNHMG and other events as well as Drexel University and Plymouth State University. In April 2019, Chris launched www.programmaticb2b.com to address the needs of small to mid-sized B2B organizations.